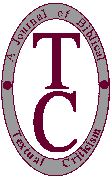 TC: A Journal of Biblical Textual Criticism
ISSN 1089-7747
TC: A Journal of Biblical Textual Criticism is an electronic journal dedicated to the study of the Jewish and Christian biblical texts. Articles on any aspect of the textual criticism of the Jewish and Christian scriptures (including extracanonical and related literature) are welcome, and contributions that transcend the traditional boundary between textual criticism of the Hebrew Bible/Old Testament and New Testament textual criticism are especially encouraged. We would also like to see articles that discuss the relationship between textual criticism and other disciplines.
TC publishes standard scholarly articles (both full-length articles and shorter notes are equally welcome), project reports, and book reviews. In addition, as it develops, the TC home page will provide links to additional resources of interest to biblical textual critics, including text-critical projects, original language texts, interactive interfaces to provide information about sigla used in different editions, and links to other sites of interest.
TC 1 (1996), TC 2 (1997), TC 3 (1998), TC 4 (1999), TC 5 (2000), TC 6 (2001), TC 7 (2002), TC 8 (2003), TC 9-10 (2004-2005), TC 11 (2006), TC 12 (2007), TC 13 (2008), TC 14 (2009).
---
---